Bidgood's,

in the Goulds

If it comes from the land or sea of Newfoundland, you'll find it at Bidgood's!
A NEWFOUNDLAND
LANDMARK
Renowned for our unique offering of traditional Newfoundland fare, Bidgood's Supermarket is proud to offer its customers a one-stop-shop for your everyday grocery needs: fresh local produce, meat and game, fish and seafood, handcrafted baked goods, and a delicious assortment of ready-to-enjoy takeaway meals. For an authentic taste of Newfoundland, browse our famous assortment of Bidgood's own house brand products.
While you're at the store, swing by the Mug Up Café for a taste of Newfoundland (and a cup of tea!), or surprise a loved one with a one-of-a-kind gift from our craft store – a trove of unique handmade treasures. They're just two of many other shops at Bidgood's.
To learn more about our love of local and how it has helped us grow over the years, check out our history.
A Century of
Tradition
Bidgood's Food Centre opened its doors in 1963, but the roots of our company go back much further.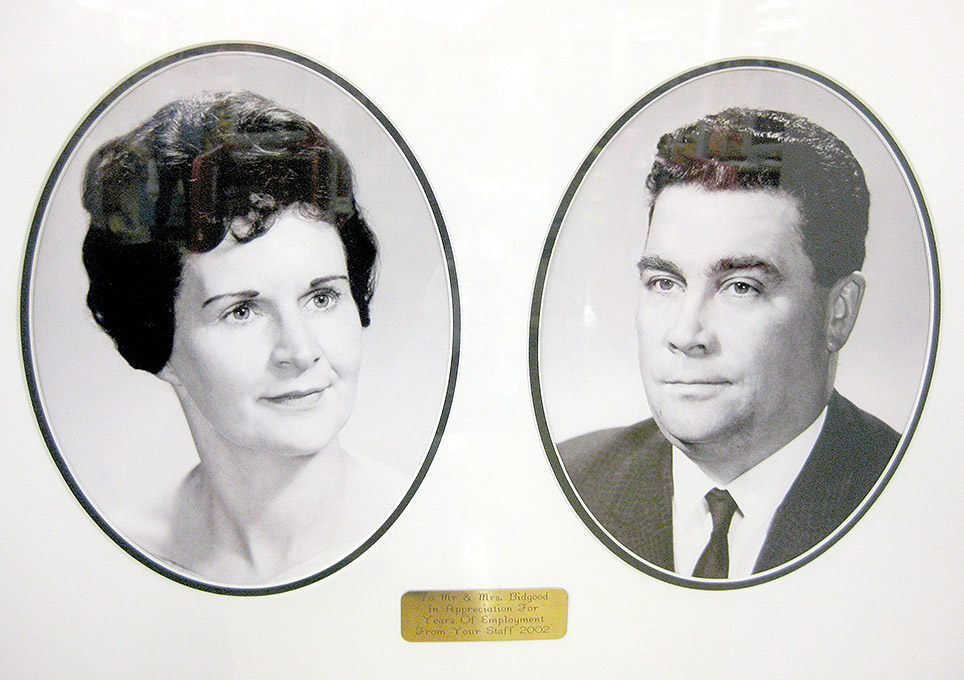 1920s
- General store
In the 1920s, Roger's mother – Maggie (Hannaford) Bidgood – launched what would become a general store to serve the Petty Harbour community from a table in the front room of her family home.
1940s
- Distribution Service
Roger Bidgood travels on behalf of a group of Petty Harbour fisherman to trade fish with the merchants of St. Johns for coal, bread and other supplies. Before long, he was driving in the other direction as well, along the gravel roads to the many tiny communities of Newfoundland's southern shore, thus beginning Bidgood's wholesale food distribution service from the Goulds along the east coast of the Avalon to the tip of St. Shott's.
In October of 1947, Rogers marries the love of his life, Jennie Walsh – daughter of Goulds farmer (Paddy Walsh). Jennie brought an entrepreneurial eye and her own indomitable spirit to the partnership, and together they took over the daily operations of Maggie's general store and post office in Petty Harbour. Jennie manned the retail operations, and Roger continued to invest in trucks to expand their business reach further. Roger and Jennie's partnership would prove to be the key to their accomplishments in life and business, as neither would have come as far without the other.
1950s
- Bidgood's Salt Fish
Roger and Jennie move their family to the growing town of the Goulds. Roger builds a warehouse there in 1952.
In 1958, Roger converts the old family barn in Petty Harbour into Bidgood's Wholesale Fisheries Division. Bidgood's Salt Fish, the company's first private label product, is created.
1960s
- Bidgood's Food Centre
In 1963, Bidgood's Food Centre – a full-scale grocery retail operation, including the first 'Mug Up Café and the now-famous 'Bidgood's Bakery' – opens in the Goulds. Under Jennie's watchful eye, the store quickly becomes a popular community hub for homemade baked goods, fresh local produce, fish and game, and traditional Newfoundland fare.
Jennie was determined to make fresh-baked bread a part of the Bidgood's product list. To assist her, she brought in the experts – local women from the Goulds who had spent the majority of their lives baking perfect loaves for large families.
Traditional Newfoundland foods were made available in-store for the first time (from local lambs and vegetables, to rabbits, moose and caribou, as well as bakeapples, partridge and squash berries), and local farmers thrived as they gained the support of a retail outlet.
1970s
- Craft and Bookstore
More one-of-a-kind goods are made available to Bidgood's shoppers with the addition of an in-store craft and bookstore.
1980s
- Expansion
In 1986, Bidgood's is completely renovated and expanded to 28,000 square feet and accommodates new shops.
1990s
- Donation of Fish Plant
To help enhance the community's economy in the wake of the Canadian government's shutting down of Newfoundland and Labrador's historic cod fisheries in 1992, Roger Bidgood donates the Bidgood Salt Fish Plant and property to the town of Petty Harbour/Maddox to be used as a tourist site. It is just one of countless ways that Bidgood's has contributed to the wellbeing of the vibrant town of Goulds and its surrounding communities.
2000s
- Junior Achievement
Roger and Jennie Bidgood donate 38 acres of land to the City of St. John's in 2000 to be developed into a park and preserved for generations to come.
In 2004, Roger is inducted into the Junior Achievement Newfoundland and Labrador Business Hall of Fame. That same year, the Goulds community loses a passionate entrepreneur, Newfoundland advocate and loving family man with the passing of Roger Bidgood.
2010s
- Bidgood Park
Rick (Roger Jr.) Bidgood takes over the management and operation of Bidgood's in 2012.
In October of 2014, Bidgood Park is officially opened to the general public and dedicated to the farming community of the Goulds and surrounding area. The 38 acres of land (donated by the Bidgood family 14 years prior) showcases a swath of Newfoundland wetland, accessible by a network of trails and bridges.
2015 Rick becomes owner/operator of Bidgood's and with his daughter, Leslie, leads Bidgood's into another generation.
Continuing
the Tradition
From its inception, one thing has always remained constant at Bidgood's: our commitment to offering the best of Newfoundland and its people – at the best prices.
Today, Roger and Jennie's eldest son Rick and his daughter Leslie run the daily operation of Bidgood's and bring a fresh new perspective to the family business. Always having welcomed the sharing of opportunity, Roger and Jennie were known to reach out to the local community with every expansion within Bidgood's to offer employment and utilize the strengths and expertise of their community's people. Following in their steps, Rick and Leslie work hard to ensure that Bidgood's continues to showcase its love for Newfoundland and its resources, and are proud of the role that the business plays in the vibrant community of the Goulds.